We supply and fit to your existing bicycle - Suitable for most makes/models - 100% road legal
About CycleEasy
We specialise in converting customers' standard bicycles into electric bikes (often called e-bikes), for powered or power-assisted cycling.
From our workshop in the rolling countryside of Surrey's North Downs we supply-and-fit all the components required, including a sealed motor built into the front wheel, a rechargeable battery attached behind the saddle, a handlebar-mounted throttle and an LED battery power display.
All equipment fitted comes with a 12 month warranty.
Suitable for a wide range of users:
• Short- or long- distance leisure cyclists


• Commuters cycling daily to/from train stations


• Daily staff of workplaces with no carparking


• Elderly riders with decreased physical strength


• Trainers/crew accompanying runners/rowers etc


• Persons without car ownership or car licence


• Cyclists with trailers (eg. allotment growers)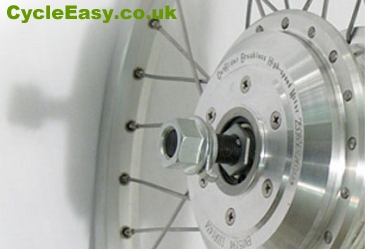 Advantages of electric cycling include:
• Power-assisted cycling for up to 40 miles


• Battery fully rechargeable for a few pence in 4-5 hours


• Excellent powered support for hillclimbing routes


• Modern lightweight kit weighs only 4.8kg


• 100% legal for UK road use


• Environmentally friendly means of transport


Contact us to discuss fitting - we have a demonstration bike at our workshop if you wish to try before you buy.